I've made it through the worst of times. Death. Firsts. And now it's time to say "thank you." I  need to divert from the blog for a bit. I would not have made it here without YOU. Family. Friends. Strangers. You helped me reach this road. You've been by my side on this journey. A journey that continues. A journey that looks toward the future instead of looking back in the past. I will always remember. I will hold the memories in my heart forever. And you have helped me. You have supported me in ways I never dreamed possible. You have given me strength when I thought my world was falling apart.
Someone asked me the other day, "Are you overwhelmed by the outpouring of love and support?" How is that even possible? At the beginning I felt alone. My best friend was gone. There will always be an empty space in my heart. But thanks to you, I don't feel alone anymore.  People ask, "Where do you find your strength?" I find it from YOU. All of you. Family, friends, and those I've never met but touch me every day. You embrace me with your kind words. You touch my heart when I touch yours. It comes full circle. When I hear I am giving others strength, it makes me stronger. When I hear I give hope, I know tomorrow is a brighter day. Positivity is a magnet. It attracts goodness, kindness, compassion. We give, we get. Thank you.
I thought this anniversary would be the most difficult day since August 30th, 2014. But thanks to you, I've approached it with new life. I thought long and hard about my choices. I could spend the time being sad. Grieving more. Or I could celebrate Gregger in all his glory. Celebrate his life. His loves. His passion.
To those I've never met but am so grateful for: The messages. Email. Facebook. They are so heartwarming. I want to reach through the airwaves and hug you. I want to touch your hand. Thank you for touching mine. You have no idea. I hope we can meet someday. I thank you from the bottom of my heart. Truly.
"Sometimes the smallest things take up the most room in your heart."
To my friends: I hope you know who you are. I wish I could name each and every one of you individually. Some of you have been around for years. Some of you came back into my life. Some of you I recently met, but you are my dearest friends. I would not be here without you. Supportive. Loving. Kind. Messages. Phone calls. Checking in. I am so grateful. 
"Gratitude makes sense of our past, brings peace for today, and creates a vision for tomorrow."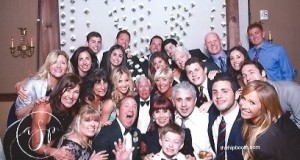 To my family: From day one. You have been there for me. I remember calling my mom and dad. Screaming. Sobbing. They were in the parking lot at Costco. But they stopped. And they have stopped every time since. My brother, Michael. Waiting outside my garage. Would not let me walk into my house alone. My sister-in-law, Cindy not far behind. My sister, Suzy, always there for me. And all my other siblings. Larry, Ellen, Linda. My nieces, nephews. Extended family. Salt Lake City. Always there for me. Always. A phone call. An email. A text. Whatever I needed. Never too early. Never too late. Thank you.
To my kids: No words. I am so blessed. Where would I be without you? Lost. In more ways than I can imagine. You have let me cry. Laugh. Share. You walked with me through the toughest roads. We've walked the roads together. And we will continue climbing mountains, forging valleys. Holding hands. Wrapping our arms around each other. You are my rocks. There are no words of thanks. But I know it's not necessary either. You each have a piece of your dad in you. Even you, Tyler (I know you are reading this.) His courage. His perseverance. His integrity. His compassion. And, most certainly, his heart. I would not be here today without you. Thank you for giving me strength every day. To smile. To laugh. To move forward. To live. I love you. We will be okay. Because we always have each other.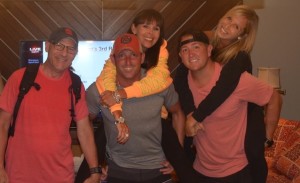 "Make it a habit to tell people thank you. To express your appreciation, sincerely and without the expectation of anything in return. Truly appreciate those around you, and you'll soon find many others around you. Truly appreciate life, and you'll find that you have more of it."