In these days leading up to the "anniversary," I keep going back to the beginning. The moment I spotted Greg. And I just knew. 41 years ago. Bushy-haired guy, beer in hand, hanging at the pool. He never knew what hit him. And it hit him hard. He didn't stand a chance. Locked him out one night. Talked the night through. One date. And the rest was history. Inseparable. Partners. Lovers. Friends.
My grandmother used to say, "You need to get down on your hands and knees. Every night. And pray. You need to thank God for giving Greg to you." I resented it. I thought, "What about me?" Shouldn't he thank God for me? Wasn't I good enough? I didn't get it. But as the years went by, I understood. He was one of the "good guys." He was special.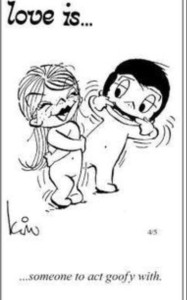 It was the simple things:
1. Holding hands. Walking down the street. In the grocery store. In the car. Everywhere. It just felt good. Connected.
2. Helping out. Emptying the trash. Clearing the table. Picking up dog poop. Yucky job. But he did it. Sharing. Doing it together.
3. The Little things. Putting out my coffee cup. Every morning.
4. Laughter. Silly, goofy, simple fun.
5. Cuddles. Hugs. Watching reality TV he hated or shows we loved together! It didn't matter.
6. Kissing. Before he left. When he walked in the door. And in between. I miss those kisses.
7."I love you." He said it A LOT!  On the phone, text, email, cards. He never let me forget it. His last words. They'll stay with me forever.
8. Surprises. So many. Some for occasions. Some for nothing at all. That's what made them extra special. That's what made HIM super special.
9. My cheerleader. Greg was my BIGGEST supporter. Whatever I tried to do, he pushed me to be better.
10. My best friend. He listened. The good. The bad. The ugly. He didn't always "hear" me, but when it was important, he stopped. That counted. I mattered. I knew.
People used to say, "You are so lucky. He's so calm. Composed." And I wanted to respond, "You don't live with him." That wasn't fair. I was his outlet. His sounding board. Everyone needs one. He was mine. So WE were lucky. Blessed. He wasn't perfect. Neither was I. "A perfect marriage is just two imperfect people who refuse to give up on each other." That was the two of us. There for each other through thick and thin. Richer and poorer. Sickness and health. Good times and bad. We lived through it all. And we made it right to the end. Smiling. Laughing. Loving. Always loving.