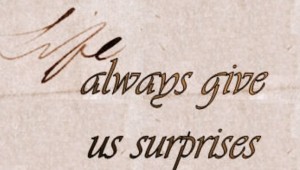 I hate secrets. I have hated secrets since I was a little girl. I think secrets can get you into trouble, unless they are the really, really good kind of secrets. Or the secrets (more like confidences) shared amongst friends – those are just different. Secrets are something you have to keep inside. You can't talk about them, you can't tell anyone, and sometimes they just harbor icky feelings.
Surprises are much different than secrets. Surprises are generally joyful, exciting, and are shared with family and friends. Sometimes a secret can turn into the very best surprise and that's the only time secrets are OKAY in my book! So when Gregger kept a BIG secret from me for nine months (that eventually turned into a wonderful surprise), I decided it was okay to forgive him.
I had absolutely NO idea he was harboring this secret. If there were an inkling, I would have nagged him to death. That's probably why he kept me in the dark for so long. So when he came home after work on Saturday, April 28th and suggested we have a drink before dinner, I really didn't think much of it. This was typical on Saturday nights, kind of our time to unwind and recap, slow down a bit. He was overly exuberant after a stressful day, but I figured he was just happy to be done with a difficult week. He was taking his sweet time going through the mail, getting undressed, and suggested we sit outside for a while since it was such a nice evening. (Clue #1)
We toasted to the weekend, another week gone by, and happy times ahead. We finally meandered inside for dinner around 8:30 and all through the meal he jabbered on about going back outside for another drink! We just didn't do that! (Clue #2) I was exhausted, but that just wasn't going to fly. So back we went to enjoy the Arizona air. Unfortunately luck was NOT on Gregger's side. As Gregger was relaxing, I went to find one of our dogs only to discovered a SNAKE on the side of the house. My scream could have been heard in downtown Phoenix! The snake creeped it's way out of the yard and we headed back to where we started. One sip in and I came completely unglued. A godawful BAT was flapping around the outer lights! UGH! That was it! I was done! Gregger was so bummed, but I begged him to head to the bedroom for safety and a little TV. This was a switch! (Clue #3)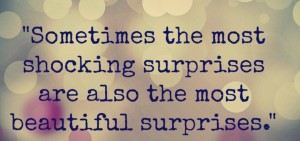 I was so ready to hit the hay but he was going strong. Although he was trying to be discreet I could see his cell phone tucked away in his pocket. I did find that very odd, but decided not to question. (Clue #4) Our home phone was broken so I thought he was just being overly cautious. I remember watching an old "Everybody Loves Raymond," the news, and the opening of "Saturday Night Live." We were both distracted. I was trying to figure out what the Gregger was up to and he was just plain WEIRD! He randomly mentioned Ashley and Tyler's trip to San Francisco to celebrate Tyler's 26th birthday. He hoped they were having fun, yada, yada, yada. Yeah – me too!  At this point I just wanted some shutup and shut-eye! Suddenly we were jarred by the ring of  the house phone (which we frustratingly couldn't answer) and "Tyler Ludwig's" name on the TV screen. I freaked!
#1 Why would they be calling us from San Francisco?
#2 Why would they be calling us this late at night (yes, we would normally be SOUND asleep!)?
In total panick mode due to the home phone outage, I was screaming at Gregger, "Call them back, call them back. Right now!" As he began dialing, his phone buzzed, and, as anticipated, it was Ashley and Tyler. My heart was beating out of my chest. Gregger was calm as a cucumber. What was wrong with him??? He was chit-chatting away as I nudged and poked. What's wrong, what's wrong? He started to hand me the phone, but I snatched it out of his grasp. "Hey guys, is everything ok?" Ashley kind of giggled, "We were walking around and saw something that reminded us of you so I'm texting you the picture right now. Look at the phone and let me know what you think." I waited in an anticipation (thinking it was someting to do with "I Love Lucy") until I heard the "ping," When I looked down my heart skipped a hundred beats.  I screamed, I cried, I jumped for joy! The day I'd been waiting for for seven years had finally happened!
Ashley and Tyler were ENGAGED! Tyler had finally popped the question! I know that sounds crazy, but I just knew these two were meant to be together. Tyler had been a part of our family from day one and now it was going to be official. This was one happy moment! You would have thought he put the ring on MY finger!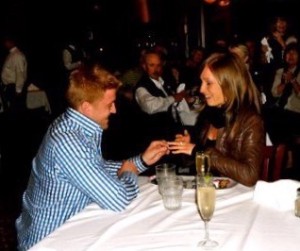 So Gregger kept a secret all right. He kept that darn secret for nine months! He knew every little detail from the ring, the proposal, and where the ring was hidden. He was so worried I was going to be mad at him. Are you kidding me? This was the BEST secret that turned into an even BETTER surprise! So even though he broke our cardinal rule of keeping secrets, forgiveness was indisputable. It's hard to believe it's the three year "engagaversary" (as Ashley dubbed it). I remember that night like it was yesterday. Cheers to the happy couple. Cheers to my Gregger. And cheers to happy secrets that turn into even better surprises!