"Live for something. Do good, and leave behind you a monument of virtue that the storms of time can never destroy. Write your name in kindness, love, and mercy on the hearts of thousands you come in contact with year by year, and you will never be forgotten. Your name and your good deeds will shine as stars in heaven."
This was Gregger. He is truly a shining star in heaven. He lived for something. He lived for a lot. His family. His friends. Truly anyone who crossed his path. He did good. He was full of goodness. He left behind a monument of kindness, goodness, and generosity that time will never erase. He will never be forgotten. He was one of the good guys.
As most of you know, this is a rough month. The anniversary of Gregger's death. But I am trying not to be sad. I am trying to see the light. The positive. The growth. And the strength that came from the "shining stars in heaven." His spirit. I want to honor that spirit. Gregger's memory. He deserves it. So I will write about who he was. What he stood for. And the legacy he left behind. So well deserved. I will share messages sent to me. Messages that convey his most honorable attributes. There isn't a Reader's Digest version. So bear with me. The rest of the month is dedicated solely to my one and only.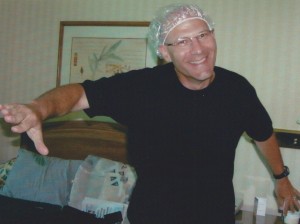 The Gregger: Where do I begin? Kind, compassionate, funny, generous (to a fault), hardworking (to a fault, again), courageous, and full of love. So full of love. Others said, "It is amazing how many people were impacted by Greg. His personality was genuine. He was kind and always positive. I will always remember his smile." Five months ago, I wrote, "Because of his smile, he made my life more beautiful. His tooth-bearing, eye-twinkling grin melted my heart. In the worst of times, his boyish grin could mellow my ranting rage to a quiet calm. If Gregger smiled at you, he touched your heart. His smile was like a warm hug on a cold winter's day." It has now been almost a year since Gregger's smile graced this earth, but it is etched in stone upon my heart. It will always make my life more beautiful. It brings me sunshine on a cloudy day. It raises me up when I'm feeling down. It gives me strength when I think there's nothing left to give. Thank you Gregger. Today. Tomorrow. Forever. I love you.
The Professional: Gregger began at 8 years old and worked his way to the top. He not only had a passion for his industry but for his clients. He followed in his father's footsteps and then created his own path. Five months ago I wrote, "The Gregger never settled. He climbed his mountain all the way to the top and enjoyed it every step of the way. The challenges. The struggles. The joys. But most of all the people he met along the way. He truly loved "his" people. They were all part of "his" family. Colleagues stated, "The industry lost a giant. Greg's ability to recognize change before it happened made him a pioneer and someone that we all aspired to emulate. Well beyond the passion he displayed for his chosen career, he set the standard for behavior and overall level of professionalism. He was a class act who raised the bar for all of us and taught us all how to treat others. He was as kind as he was gracious, challenging all around him to be a better person."
"Greg was a wonderful soul and human being! They have one heckuva haberdasher with a great heart upstairs."
If only I had one more day. Just to say, thank you. You made me a better person. You gave me strength. You gave me courage. And you taught me the meaning of selfless love. Love for others. Love for myself. The greatest gift of all.  I miss you.
To be continued…