So I survived Birthday 2015. Family. Friends. Support. Love. Lots and lots of love. From the break of dawn 'til the midnight hour. Texts, phone calls, FB messages, cards, photos, and more. Memories flashed. New memories made. It was a day to reflect. A day to rejoice. I focused on my blessings. Gregger kept flickering into the picture. I knew the moment I landed in Utah he was there. He would have embraced the beauty, just as I did. He would have loved the tranquility. A charming sense of peace.
I went to bed Tuesday night praying that Gregger would come to wish me a Happy Birthday. He didn't. It was hard to sleep. I wanted my birthday to come and go. Maybe I could just sleep through it. No. We had too much to do. I had to smile. Be happy. Have fun. I could do it. I just kept telling myself it was just another day. People called. I spoke to a few, but more like an out of body experience. We were busy. Perusing Park City. Shopping. Meandering. Lunching. A little happy hour sunshine with the girls. Fun. Good to forget.
Open cards. Hard for people to buy this year. They didn't want to be too funny. Not too sentimental. Some made me cry. Some gave me a little chuckle. I got it. It was tough. Presents. My kids gave me really sentimental gifts. Touching. Close to my heart. Sweet. Kind. Full of love. Just like their dad. I'm not surprised.
Off to the concert. Red Butte Garden in Salt Lake. A botanical garden surrounded by a beautiful mountainous range. Magnificent. Storms swelling on the horizon. Praying they would bypass the Butte. The winds kicked up. Dark clouds formed. Harry Connick, Jr took the stage. The crowd erupted in applause. The skies opened. The sun broke through. Gorgeous. Captivating. Perfect. Birthday magic.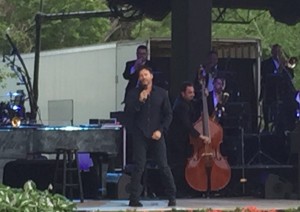 And that concert was sensational. Standards. Standup. Jazz. Big Band. And love songs. Those were the ones that got me. Yep. I looked right into those heavens and cried. I wanted Gregger right there with me. Holding my hand. And then the rainbow appeared. I couldn't see it. I strained. But Harry talked about it. He kept pointing to it. "Can you see it? Can you see it?" NO! I wanted to scream out! But I knew it was Gregger. I knew he was there with us. I knew it was my birthday sign. And just then I knew everything was going to be okay.
It was a fabulous night. I am blessed with a wonderful Utah family. Lucky to share my celebration with my in-law birthday twin. And so grateful we are able to be together. Thank you to everyone who touched my life yesterday. You touched my heart.