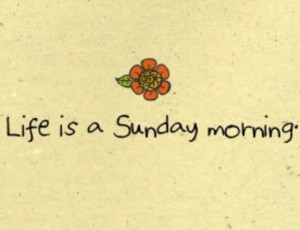 I have a love-hate relationship with Sundays…it used to be my favorite day of the week. It was "our" day together. I would sleep in a little bit (lucky to push past the 7 am mark) and awake to an already sweaty Gregger sitting at the kitchen table reading the Sunday paper. The coupon pages had been separated into piles across my kitchen counter…why he believed I was still cutting coupons, I have no idea! Sometimes I would cut them and give them to him just to make him happy. He got so excited with a Crest or Tide coupon…save a buck and he smiled! My coffee cup was neatly set out on a paper towel, spoon by its side, equal packets and my sugar free syrups all ready to pour…who couldn't love a guy who did that every Sunday morning! Actually he did that every morning, but there was something about Sundays that made it extra special. We would sit at the table for an hour or so – he would read EVERY page of the Arizona Republic (who does that anymore?) while I read emails, checked out Facebook, and he would catch me up on pertinent news. Then it was onto bills…he'd pay them, I'd watch. Good thing I paid attention in the later years…don't know what I would be doing right now if I hadn't. As much as I begged him to sit for a moment or two, he never could until all the chores were done, so off he went to "pick up the poop" in the yard, sweep the patio and front step, and wash down the cool deck. Even on those Sundays when I said there was rain on the horizon and it was such a waste of his time, he insisted…a man of rituals.
We loved our Sunday walks..sometimes it was a hike at Pinnacle Peak, other times it was just a simple walk by Starbucks. We would walk and talk, sunshine beaming down on us and catch up on the week…talk about the kids…talk about life. We'd talk about our dreams, the future, even stupid, inane crap. Sometimes he'd spend it on the phone with his sister or one of our kids, but I didn't care…we were together. We always ended at Starbucks for "our coffee time." Maybe 5 minutes, maybe 30, but we still did it..routine. Our Sunday-Funday. Target, Costco, Home Depot…we hit all the fun spots on S
unday-Funday…and by the end of the day we were pooped. To most people it sounds rather boring…but we loved our Sunday Fundays…we couldn't wait until 6:00 when we toasted each other to another happy week together and another happy week ahead. Life was good.
I miss my coffee cup waiting for me. I miss my walking partner. I miss Gregger's smiling face sitting across from me at Starbucks. I miss having someone to "cheers" me on Sundays at 6:00 to a great week ahead.  But, most of all, I just miss Sunday Funday. I still drink my coffee. I still walk. I still go to Starbucks. But it will just never be the same. I will make a new Sunday Funday one day…just not yet.