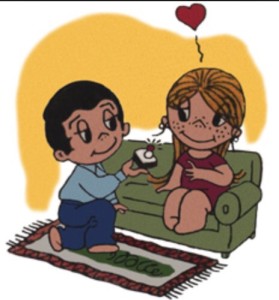 "A good life is a collection of happy moments." Blessings, treasures in a memory bank…a place to go when I need a hug, a smile, or some sunshine on a rainy day.  I put on my wedding band today and was reminded of Gregger's "first" proposal…so simple, so funny, so unromantic, yet one of the happiest moments in that treasure bank. After a whirlwind romance and a trip to Disneyland I think I pretty much hounded him enough until engagement was the only thing on our minds. We both had a year left at ASU, were completely unprepared for the real world at the ripe age of 20, but "the happiest place on earth" had given us a reason to think marriage was the next and best step (or at least I thought it was and went on to convince him). He came to St. Louis to meet my crazy family over Christmas. Now that could have been the biggest mistake of my life! As he entered the house he was inundated with "noise!" Kids everywhere…one spinning cartwheels, another throwing footballs, and my parents asking what the hell he did in Iowa! This poor guy didn't know what hit him. I thought he was going to dart out the back door and I'd never see him again, but he sat there with that twinkling smile and took it all like the gentle soul he always was…kind, compassionate, full of heart. He cheered for the cartwheels, tossed the football, and answered the questions like a sport. After a few days we were off to Iowa…then it was my turn…UGH!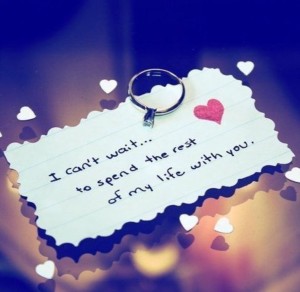 I flew off to Council Bluffs, Iowa to meet the fam. I don't think I had the confidence of Gregger. I was definitely more timid and shy. This was my first real "meet the parents." What if they didn't approve? While Gregger was a pretty self-assured, independent guy, the blessing of his parents was key. If Sammy and Nonie nixed this plan, I was a goner…I was sure of that. I really wasn't sure of anything the first few days. I didn't know if I was just there for a "run through," a "meet and greet" or if this was going to be the real deal. I just knew I was in it for the long haul and I was praying I got a "thumbs up."
Life long friends of the in-laws and Gregger's, the Gallners, were throwing us a welcome party on Sunday night. This was extremely kind since we weren't officially engaged. I was just the girl from St. Louis. Here comes the fun part…setting the scene. Standing in Gregger's childhood room with cowboy wallpaper covering the walls, dressed in a rather ratty bathrobe and still prepping with no makeup and a head full of curlers, Gregger entered the room. I could clearly tell he had something on his mind. No flowers. No box. So this COULD NOT be the proposal. Not the romantic Gregger I knew. But…he tells me to sit down on the bed. I am in a bathrobe with curlers literally covering my head!!! He hesitates a second and says, "So we are going to this party at the Gallners tonight. Do you want to marry me?" Huh? In my dreams I had so many magical proposals. I imagined being in a beautiful setting with my love on bended knee, an open box with something glittery in front of me. I would hear these "gushy" words that I had been waiting to hear all of my life and I would melt inside, but, here was MY PRINCE in his bedroom proposing and suddenly NOTHING really mattered at all. I jumped into his arms, shouted "Yes" and then proceeded to ask in my inimitable way, "Are you sure? Are you sure? Is this for real?"
The Gregger proposed to me two more times in our forty years together, once on our 25th and again on our 35th. No fancy dinners or romantic settings – just me in my robe while prepping to go "somewhere." This was OUR day…it never mattered what was going on in our lives, we took the time to spend this day together.  So all that really mattered was that my Prince Gregger was still standing before me proclaiming his love, vowing to stay together for a lifetime. It made me believe in real fairytales. I realized Prince Charming does not have to bring the glass slipper or even the diamond ring…all he has to do is love you unconditionally, curlers and all. Although we vowed to be together for 75 years, I was blessed with just short of 39 …treasures in my memory bank that fill my heart with love.