"You'd Think That People Would Have Had Enough Of Silly Love Songs.
But I Look Around Me And I See It Isn't So.
Some People Wanna Fill The World With Silly Love Songs.
And What's Wrong With That?
So I remember all the way back to junior high when I would belt out love songs in the privacy of my room. My sister would tell my to "shut up" as I sang "See You in September" over and over again, while pining for one boy or crying over another who had recently broken my heart. Love songs come in all shapes and sizes…there's slow and sensual for falling in love; a little more upbeat when you're in love; and then totally melancholy mellow when heartbreak hits. Whatever your love song, it's intensely personal and speaks to "your heart." We had so many…Carole King's whole Tapestry album (the first I ever bought the Gregger); the cheesy Carpenters "We've Only Just Begun" (our first dance…ouch, a bit embarrassing!), and, fast forward 38 years to John Legend's "All of Me" –  that gets me in my gut everytime. I would sing it out at the top of my lungs…he would laugh, but it would be ours "cause all of me loves all of you."
Nowadays when those songs speak to my heart they spark so many memories..the tears stream down my face as I sing the words driving in my car, sitting at Starbucks, walking alone on a beautiful day, or winding down a workout. The words evoke a multitude of flowing memories…holding hands in the car, singing together, dancing in our kitchen,  or just a silent private moment. Whatever it may be, it is bittersweet…I love those silly songs…I love the words, the melodies, and the memories. Call me a sap but Bublé, Barbra, Barry or Beyoncé can bring out the best of mush in me any day and tears or not, I'll keep on singing.  And as I listen I can also dream…Hey Gregger…they're playing our song!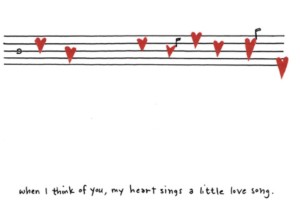 What's your silly little love song?