Heads up readers! I am doing my best to keep the positive spirit, head high, and super smile, but this is a TOUGH one! I have been trying to squash some incredible memories. I can't stop the tears. Happy tears, sad tears, "I miss you so badly" tears. One of the GREATEST weeks of my life. My 60th birthday! A birthday I could barely believe I was celebrating. But leave it to Gregger. He made it over-the-top spectacular, never to be forgotten. As they say in the movies (well kind of), "Thank God we had 60!" One year ago. And in that short time, life changed. I want to go back. I want a redo. I want him here to celebrate.
Gregger had a whirlwind trip in New York to make it home in time for my birthday, so just having him there was enough for me. I thought we were going to spend a quiet day together. A walk. Starbucks. Pedis. Gregger had never had one. He hated people touching his feet. But he was going to do it for MY birthday. I was shocked. Little did I know we'd never make it there. He had far more up his sleeve.
It started on Saturday. I was running errands, catching up before he came home on Monday. My sister-in-law called and said they wanted to stop by with my present as they were going to be away on my actual birthday. No big. Of course. While I was trying to downplay this momentous milestone, everyone else was playing it up BIG! There was no escape! A few minutes later they showed up at my door singing "Happy Birthday." But standing in the background was my sister, Suzy, from NEW YORK! Surprise #1! We had just texted several hours earlier and were planning to catch up later in the day. I had NO CLUE!
Several weeks prior I had been on the phone with Suzy chatting about the "Move Live On Tour" Show with Julianne and Derek Hough. It was going to be in Phoenix on my birthday. Ticket prices were sky high and with Gregger in NYC it was off my radar. But Surprise #2 was a doozy…my family, along with Gregger, scored front row seats (1 and 2)! Really? This was almost too much and it wasn't even my birthday yet! Amazing show, fantastic night. The only thing missing was the Gregger beside me to share the energy, the love, the celebration. But he was on his way.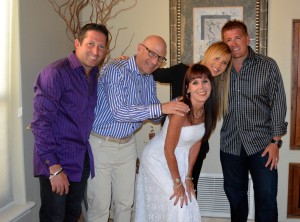 Monday was finally here and Gregger was on his way back from NYC. I was so anxious to see him. He had only been gone a week but it seemed like forever! I hated getting the party started without him. It was time for him to join in the fun. The only thing that would have made my birthday perfect was having Ashley, Tyler, and Bella in tow. Unfortunately (or fortunately for his family) they were celebrating with Jeff (Tyler's dad) who shares my birthday. It's only fair that we take turns, so I was more than okay with this plan. I figured next year might be mine. I had spoken to Ashley several times during the day. She was feeling pretty bad. I kept reassuring her she was doing the right thing. My last conversation ended as they were getting ready to have lunch with Jeff to start his celebration. Yeah, Jeff! So after Suzy and I filled our day trying to get my stupid phone replaced (lots of aggravation), I was ready for a happy hour celebration with friends. Fate must have stepped in. I had no cell service. So Suzy was on call. She played me good. She told me Gregger texted her from the air and said his plane was circling. It was going to be late. I thought it was coming in early. Why not believe her? I had no reason not to. Drink on. We finally headed for the airport. Then it was time to sit and wait. Cell phone lot. What the heck? I thought he was in. Guess not. We circled around and saw him heading to the car. YEAH! Time to get this party started! I practically jumped into his arms! I was overcome with joy. Suddenly he said he forgot a package inside. Needed to go back to get it. Greg? He doesn't forget. Ever. I was baffled. But I waited. And as he walked back out, nothing in hand, a trail of three beautiful figures was behind him. Ashley, Tyler, and Bella. OMG! I screamed. I jumped. I clapped. I was overjoyed. Surprise #3! It couldn't get better than this!
But it could. We walked into the house and the kitchen was blooming with a bouquet of 60 birthday balloons. Magnificent! How did he pull that one off? Magical. Extraordinary. Gregger. We capped off the night with cheers, laughter, and lots of love. LOTS OF LOVE. Before bed I was instructed: be ready by 9:30. Wear a bathing suit. No questions. Just be ready. Okay. No idea. But I'll go with it. I was in my happiest place. With my happiest people. My family.
Birthday. Lots of wishes. Phone calls. Texts. Facebook messages. It felt good. I felt good. A dear friend and her daughter stopped by with flowers and gifts. Ryan stopped by. He had to work. He was saving his time off for Hawaii. I begged him to. That was way more important than my birthday. We would celebrate over the weekend together. He was okay with that. Or so I thought. He greeted everyone. Hugged me tight. Suddenly he said, "Oh mom. I think there are some flowers for you by the front door." Without a thought, I meandered to the door and flung it open. No flowers. But the BEST surprise EVER. My parents. With birthday wish signs in hand. Surprise #4! I cried. I almost fell over. I really couldn't believe this one. Flying in from St. Louis to celebrate with me. This was just over the top special. This day just couldn't get any better. But it did.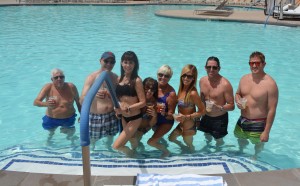 Surprise #5: Ryan was off for the day. Spending it with all of us. Surprise #6: We loaded up the car and headed out. I had no clue where we were going until we arrived at Talking Stick Casino. Gregger had rented a cabana for the day. What a blast. Our own cabana boy. Food, drinks, TV, and a pool practically to ourselves. Gregger was not a pool or sun lover so this was for me. And boy did we have fun! Just lounging in the pool. Chilling our bodies from a hot AZ day. Nothing could be more perfect than hanging with the people I love. Capped it off with a little gambling. Nothing crazy. I hate throwing Gregger's hard earned cash away. So home we headed. The celebration was still underway.
Showers. Dress. Present time. Pictures. Lots and lots of pictures. Good thing. Memories captured for a lifetime. And then we were off again. While it was supposed to be a surprise, I was pretty sure I could guess this one. I was right. Ocean Club. Best food in AZ. Best atmosphere. Best night ever. Perfection. No words. Just love, laughter, family, and good old-fashioned FUN. SIXTY never felt better. This one was for the history books. Cloud nine. Reeling for weeks. Don't ever let me come down.
One year later. No Gregger. No surprises. It will be hard. There's no way around it. My toughest 1st yet. He just made it that special. He made me feel that special. Sometimes I wish he hadn't. But I'm lucky. I have an incredible second family. A family to share my birthday with in a big way. So we are off to Utah. Off to celebrate Keena and Jeff. It's their special year. We'll celebrate them. I'll hold onto the memories of last year. I'll feel Gregger with me. I'll wait for the sign. And I'll cherish the love, laughter, and joy of a beautiful family. Grateful for life's blessings once again.