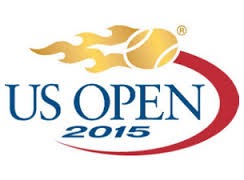 I spent Labor Day weekend consumed with the U.S. Open. I am a tennis junkie. I guess that goes back to when the boys played, and it stuck. But I should not be watching alone. This was something Gregger and I did together. And this year we were supposed to be in New York. At the Open. That was the plan. But plans change. Life changes. And I'm here watching the matches on TV. Not in person. Not in New York. Not with Gregger. We had a lot of plans. We had our bucket list. In the last five to ten years, we were checking it off. But we had a long way to go.
When you're young you think you have the whole world in front of you. There's always tomorrow. We put things off forever. Or so it seemed. First it was a house. Kids. A bigger house. Kid expenses. College. It never ended. So we delayed our bucket list. In the last ten to fifteen years, things changed. The kids were grown. We were settled. Life was good. So we started "checking off." But it took some convincing. Some nudging. Gregger would have been happy working nonstop. Stuck in his routine. I had to pull him out of it. Sometimes it meant tacking on a "bucket list item" to business. But I was okay with that. However we did it, we did it. Check. 
Last year, my "bucket list" included being able to walk again. First a few steps. Then maybe a mile. The ultimate, climb Pinnacle Peak. Get back to OTF.  I never thought I'd be able to do those things. I could barely sit or climb stairs. Now I'm running, working out every day. I believe "someone" is watching over me. Check.
I always dreamed of writing. Or to share my writings with others. Strange how things work out that way. Not the way I planned it. Maybe part of someone else's plan. That's okay. Check.
Going back to Hawaii was a big one. Ending the way it did was not. And now we will never finish the bucket list we shared.  A new house closer to the store. African Safari. Australia.Washington, D.C. I was there. Gregger was not.  We planned to "train it" from NYC. The perfect plan. I guess not. And the biggest one. The one we were planning for January. The one we'd been planning for our 25th, our 30th, and our 35th. But life kept getting in the way. Renewing our vows for our upcoming 40th anniversary. All part of OUR Bucket List. The list we will never check together. But one I will try to fulfill on my own. A journey I will travel. And always know that Gregger is with me. In my heart. By my side.
But YOU have today. YOU can fill your bucket list. They can be simple. Close to home.  Whatever your hopes. Whatever your dreams. DON'T WAIT. Don't put off 'til tomorrow what YOU can do today. I learned tomorrow may be too late. We were lucky. We had a lot of tomorrows. We filled our bucket about 3/4 full. I was blessed. But I would have loved to fill it to the top. With Gregger. Not alone. I just don't have that chance. But you do.  What are YOU waiting for?
Five years ago I wrote to myself: "Make every day count. Appreciate every moment and take from it everything that you possibly can."