I am so sad. I just read that Paris is not only banishing the tradition of "Love Locks" on the famed Pont des Arts, but removing the ones already blanketing the bridge. Gregger and I left our mark there September 2013. We promised to go back one day. We marked the spot. We took pictures. We knew just where our love lock, inscribed with our initials, remained, bearing our eternal love for one another.  
Apparently the locks have become a safety hazard. City hall workers will begin removing the locks to prevent the bridge from caving. I get that. But it's like another piece of our hearts is being tossed away. Paris was our last "alone" trip together. We dreamed about that trip for so long. It was a HUGE deal for Gregger to take time off in the fall. New, exciting merchandise. Clients back in town after a long, hot summer. Push time. We vacationed in July or August when it was quiet. Gregger never wanted to miss anything or anybody. After 40 years together, I got it. So this was something special. Not just Paris, but Gregger in September!
Two weeks before our grand trip, I blew out my back. BAD! I couldn't walk. There was no way in hell I was canceling this trip. Gregger thought we should postpone, but I was not giving up this opportunity. I chose to get poked, prodded and numbed with an epidural. It wasn't perfect, but I was ready to rock and roll. I endured a thirteen-hour plane ride. I passed the first test. And then we were off and running. Using Fodor's guide to Paris, we mapped out our daily plan. With only four days to cover this magnificent city, we had to be efficient.  And efficient we were. From the moment we landed, we trekked our way through the city, savoring every awesome sight. It was an amazing trip jam-packed with so many incredible memories. Paris was everything we dreamed it would be and more. We not only soaked up every ounce of history and culture, but treasured the romantic ambiance. It was exhilarating, breathtaking, and awe-inspiring!
We were staying smack in the middle of the Champs-Elysees, a few paces from the Arc de Triomphe. Stepping onto our balcony we could circle around to have a birds-eye view of the Eiffel Tower and Sacred Heart Basilica of Montmartre in one swoop. Gregger enjoyed the chill morning air with his Starbucks in hand (yes, Starbucks!) as I readied for the day. Paris was good for him. He chilled. It was good for us. We were grateful. Grateful for each other. Grateful for time. We traipsed our way from Place de la Concorde to Notre Dame Cathedral, crossing the Pont Saint-Louis bridge to sip wine on the sublime streets of Ile Saint-Louis. We got up close and personal with Mona Lisa, Venus de Milo, and masterpieces by the likes of Monet, Van Gogh, Degas, and Gaugin. Magical. Dreamy. Unreal. We climbed to the top of the Eiffel Tower, the Arc de Triomphe. Gregger tried to stop me. He didn't think my back could take it. Nothing could stop me. It was a once in a lifetime opportunity. Let's go. So go we did. We took a sunset cruise on the Seine. Magnificent. Breathtaking. The city of lights. We hunted the Marais for hours, searching for the ultimate falafel at L'As Du Fallafel. Our feet were numb and blistered, but Gregger got his falafel – belly full, happy man. Museums, gardens, palaces, and more – endless moments marking memories for a lifetime.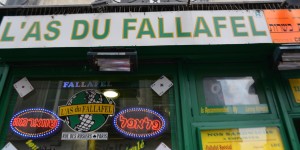 Every afternoon at 3 we stopped at an outdoor cafe. Our time. Quiet time. Gregger indulged in French onion soup, a beer. I delighted in berries, some French wine. One afternoon we struck up a conversation with our neighboring table. We exchanged pleasantries. Where are you from? What do you do? It turned out their brother-in-law lived a few streets away from us in Scottsdale and their nephew went to the same high school as Ashley! Of course, Gregger knew where they lived, people who lived by them, yada, yada, yada. The conversation was crazy. They were coming to Scottsdale. They would stop in the store and shop. And here we were on the streets of Paris. Crazy! But so much fun. Life. All part of the journey.
So Paris was full of beautiful memories. Our last special trip together. Before Hawaii. Our lock is still there, along with nearly one million others. I believe our solid love will ALWAYS be there. That can never be taken away. So while it's sad the locks are coming down, "LOVE is everlasting; infinite. It has no boundaries and no barriers. Love, is just like the universe, forever."