For the past several weeks, I have been inundated with Father's Day ads, exhibits, and displays. Mugs, t-shirts, boxers, baskets, barbeque sets, and beer steins stock shelves beckoning buyers to honor husbands, fathers, and grandpas everywhere. I walk by and feel sad. Another first in the year of "firsts." Father's Day was one of the ONLY days we could force Gregger to TAKE instead of GIVE. It was OUR day. We got to shower him. We got to make him our center of attention. We LOVED it! He couldn't argue. He just had to sit back and TAKE it! Believe me, it was NOT easy. He just hated being "it." Gifts were impossible. What could you possibly buy the guy who (a) owned a clothing store with everything from underwear to tuxedoes (b) didn't WANT anyone spending money on HIM and (c) returned most everything anyway? Once his cabinets and drawers were overflowing with #1 Dad coffee mugs, BEST DAD t-shirts, and "I Love You Dad" picture frames, we were at a loss. His favorite gift – spending the day with his family. No fighting. No hassles. No conflict. He wanted nothing more. That was it. Simple. Free. In the early years, we did brunch, bike rides, pool time. As the kids grew, we were busy with tennis tournaments, dance recitals, and social events. All good. Happy times.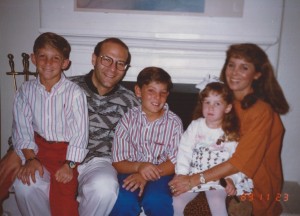 It would have been the two of us (well, maybe three) this year for Father's Day. But he would have been home.  That sounds strange, but for the past three years he was high in the skies traveling to Florence, Italy. It was the bi-annual event for Pitti Uomo, the largest international fashion fair for men's clothing, where designers launch new collections and projects. Gregger loved attending Pitti. He loved Florence. He loved the camaraderie with his retail brothers. But he hated the timing. Even with our kids grown and "gone," holidays were a big deal for us. I was the one who pushed him to go. I knew how much he loved being there. For three years, we argued. For three years, I won. That was miraculous. Looking back now I wish I had said, "yes" to joining him. But I didn't. I stayed home. Alone. Why? I had been there, done that. I didn't need to keep going back. He was busy. I was bored. This was my year to go. We always added something special. One year Venice. Another Tuscany. Another Lake Como. We hadn't decided yet. It was too far out. Plenty of time to plan. Well, maybe not.
So Father's Day is very different this year. I'm lucky to have MY 92-year dad. Amazing! Sharp as a tack. Witty. Smart. Remarkable! Gregger loved my dad. They had such a beautiful rapport. Conversation. Laughter. More conversation. More laughter. I cherished those moments. My two favorite guys. The one who raised me and the one who helped me grow.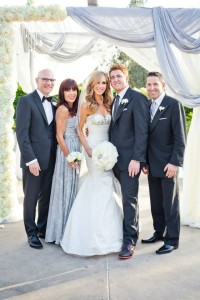 I know my kids are missing their dad this year. He was truly the BEST. A mentor. A friend. He listened. He cared. He loved unconditionally. He was there. But we are all better people because he showed us the way. Happy Father's Day Gregger!  I miss you every day! And I will love you forever!