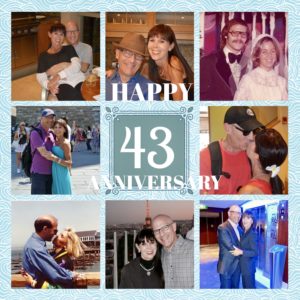 Dear Gregger,
43 Years…Our Anniversary…Happy? 4 ½ years ago it was. For 38 years it was a day to celebrate. Us. But today? No. For better or worse. 'Til death do us part. As we did. Parted. August 30th, 2014. I stand here alone. 43 years. Wondering. Wishing. Wanting. But that's all I can do. I believed in fairytales. Happily ever afters. This wasn't our ending. I want a rewrite. Now what? How do I "celebrate?" How can I find joy on this special day that joined us together as "one?" We were writing our story. But there are so many blank pages. I can only go back and read what was. Because that's all there will ever be. Memories.
January 10, 1976. Our first dance. "We've Only Just Begun." "White lace and promises." I wore white lace. We made promises. Promise to love. Respect. Support. Through good times and bad. "A kiss for luck and we're on our way." And so we were. Move to Arizona. One child. Two. Three. Building a life. Our home. Our future. But. "We'd only just begun." Still "so many roads to choose. We started out walking and learned to run." But, yet, we'd still only just begun. Life changed along the roads. And so did we. We laughed. We cried. We stumbled. We got up again. But, through it all, we were "us." Together. "Sharing horizons that were new to us. Watching signs along the way. Talkin' it over, just the two of us. Workin' together day to day. Together." In the end. That's what mattered. Together. Just the two of us. Friends. Lovers. Soul mates.
"And when the evening came, we smiled. So much of life ahead." That's what we thought. That's where plans changed. God had us fooled. We had plans. But He had different ones. And suddenly. Life changed. Now, "I'll find a place where there's room to grow. I've only just begun. I watch horizons that are new to me. Watching the signs along the way. Talking it over but you're not there. Working it out day to day. Alone. And lonely. And when the evening comes, I think of you. Where did our moments go? I'll keep searching for a place to grow. And, yes, I've only just begun."
I want to rewrite our ending. Rewind. Redo. Just certain things. Words. Actions. Those moments wasted quarreling over minuscule nothings. I want to fill the blank pages. But we don't get second chances. This was it. I have so many words left to say. So many more "I love you's." "I'm sorry." "Forgive me." And more "I love you's" after that. So as we "celebrate" this 43rd year, I cherish the moments we had. I'm grateful for your lessons. The big ones, the small ones, and the "Greggerisms." They are invaluable. They give me strength. Courage. And confidence. To stand on my feet. To survive. And to remember. Keep smiling through the storm. Because. At the end of the storm, there's a rainbow. Where hopes, dreams and wishes really do come true.
I will not to be sad today. I've cried too many tears. Instead. I will be grateful. For the years we had together. The love we shared. Our family. Our life. And the memories I hold in my heart. We were blessed. Cheers to us!
Forever in my heart. You will always be my "one." Happy 43rd! I love you…???   
My anniversary wish: For those lucky enough to be together. Those lucky enough to hold their loved one close. Hold tight. Share the joy. Take time. Time to listen. To play. To rest. Put away devices. Talk. Be present. This moment is the only one you've got. No second chances. Live it. Love it. Enjoy it all. And Love. Just love.
We can let the circumstances of our lives harden us
so that we become increasingly resentful and afraid,
or we can let them soften us, and make us kinder.
We always have the choice.