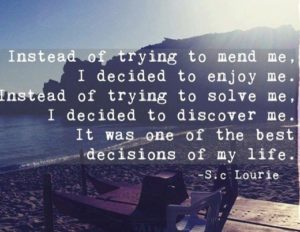 Along this grief journey I discovered the most amazing thing. Me. For so much of my life, I've lived in a bubble. Safe. Protected. Secure. I've been defined by others. Wife. Mother. Daughter. Sister. I was busy taking care. Nurturing. And pleasing. And then. The bubble BURST.

There I was. No protection. No one holding my hand. Just me. I HAD to make choices. I HAD to take notice. I HAD to see life as what it was. I had a choice. Bury myself. Or take it on. A gift. My turn. To just be me. Whatever I wanted that to be. Anyone. Recreate. Start over. My second chance. My chapter two. For so long I was trying to be something else. Please others. I realized that I'd somehow gotten lost in the midst of all those other identities. Slowly, I was discovering a new version of me. I was a person who wanted to find joy. Embrace the blessings and not the misfortunes. Cherish the moments and not wait for tomorrow. I wanted to LIVE. Because I knew how precious life could be. I knew it could be taken away in a flash. And then all that's left are the dashes between the years. No. I didn't want to JUST wait. I wanted every moment to count. I wanted to be kind. Giving. Sensitive. Sincere. Honest. And real. I embraced the "attitude of gratitude."
Some days I look in the mirror and say, "Who are you?" I don't recognize the "new" me. But I like her. She's happy. Fun. Light. Free. Even in a time of loss, I focus on the beautiful life we had, not the one we missed. I think of our greatest memories, our highs and lows, the journey that took us to the end, and cherish it all. Do I wish I'd had more? Of course! But dwelling on what's not to be won't bring it back. So I look forward. Breathe. And keep being me. Learning. Loving. And living. Every. Single. Day.