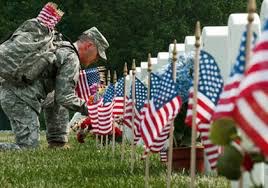 Memorial Day Weekend. Lost in the shadows of barbecues, beer, and brotherhood, Memorial Day commemorates those who have given their lives for our country.  The heroes. Flags flutter in the wind, flowers grace cemeteries, store sales abound, sporting events blast the tube and government stops. It's a time for family, friends, and community. For the fashion conscious (which runs in this family), Memorial Day marks the official acceptance of "white wear." White clothing, white shoes. Yes, even Gregger pulled out the white jeans and bucks! We savor these three-day weekends. We plan, we party, we poop out.
For Gregger and I these holidays were simply a "day off." For many years he closed the store. He was a rebel. He believed people deserved the day off. If it was a holiday, close the store. Everyone needed rest. He defied the rules. Then the shopping center gods stepped in. Lease rules. No overstepping the boundaries. So he did it his way. Holiday hours. He sucked it up and did what he had to do. Memorial Day was one of those holidays he passed off. I got lucky. I had him for two whole days. It was strange at times. I wasn't used to his being home for two days straight. Most people would find that odd. But for 40 years Gregger worked six days a week. He never took extra days off. Two days in a row. That was really something! We savored those moments. But that was in the later years.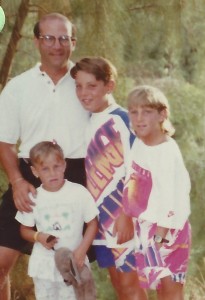 This holiday weekend I was thinking back to days gone by. Memorial Days when Gregger and I were in our prime and the kids were blossoming and athetically active. Watching the French Open today brought back a bevvy of memories and emotions. I missed so many holidays with Gregger. I was busy traveling with the kids. Nothing extravagant or flashy. We were staying in roadside motels, driving from state to state.  The boys were competitive tennis players. It was a crazy life. Tennis never had a season. A year round activity. Year round schlepping to practice. Year round juggling homework, practice, tournaments, and social life. Year round stress.  And the big tournaments were always over holidays. From Labor Day to Thanksgiving, Christmas and New Years, Easter to Memorial Day, they never ended. Our travel took us southwest, midwest, California. Gregger was stuck at home working his tail off to pay for all of the travel, coaches, equipment, and other paraphernalia. Each weekend Ashley lugged her backpack filled with coloring books and crayons.  Her faithful companion "Woof-Woof" tight in hand, Ashley sat silently on the sidelines. Meanwhile, I paced, gnawed my nails, clapped, and faked calmness as best I could (I completely failed!). If one or both of the boys made the finals, Gregger might hop a plane to surprise us. Or, if we were lucky enough for a Tucson destination, he would make it down for a match or two. It was a crazy life. But certainly a life none of us would change. Or maybe we would. The vote is out on that one.  
I spent this weekend with new friends (stepped way out of my box – thanks Marcia and Geoff!), my son (who was sweet enough to drive over from AZ), and alone (learning to cope). I would much rather be chumming with my "buddy," but he's not here. I hope he's enjoying his day off. He looked so forward to two days in a row. He lingered a little bit longer with his coffee. He scrolled slowly through his facebook page (but wouldn't admit it!). He got a bit of "scruff" after not shaving for two days. He even settled back with a beer or two (maybe even a Jameson) to catch up on some TV. They were fun times. Good times. Memorable times. With the kids. When the kids were grown. So on this Memorial Day, I honor the heroes who died fighting for our country. But I honor my lost hero too. I miss you.