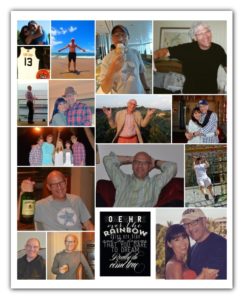 4 years. 48 months. 1440 days. 34,560 hours. 2,073,600 minutes. 124,416,000 seconds. An eternity. An instant. Forever. A flash. Time. Gone. From earth to shining star. In heaven. August 30th, 2014.
August 29th. Our life was magical. Vacation. Maui. Beautiful. Magical. Sunshine. Family. Laughter. And love. Perfect. And in a moment. Gone. My love. Husband. Father. Brother. Friend. Gone. Our lives. Our love. Our magic. One moment. Lives changed. Forever. How? Why? There are no answers. Reasons. Even logical explanations. We can't imagine. We don't think it will happen. In the moment, it seems impossible. It did for me. We take for granted. We live. We breathe. And one day. We don't. It was time. Gregger's time. And we had to accept. We live every day having to accept. But. With acceptance comes growth. Strength. Courage. And the will to keep living. "Death taught me more about living than life ever did." Gregger's death opened my eyes. It made "death" real.
Gregger taught me great lessons in life. Kindness. Humility. Generosity. But. My "real" is constantly evolving. Gratitude. Acceptance. Courage. Patience.
• Life is short. Nothing lasts forever. "Life is like a rainbow. The light and rain form its beauty, and then it fades. The gold is the shared journey and the profound expression of our lives."
• Be present. Today is the best day because it is Now. It is here. Live it. Don't lose moments.
• Don't wait. For whatever it is in your life. Focus on today. Be grateful for what is here right now. Do what makes you happy.
• Accept imperfections. Vulnerability. And just be the best version of you.
Gregger: If I could have just one more day you know what I would do? I'd hold your hand tighter. Hug you harder. Talk incessantly. Until your ears couldn't handle anymore. I'd tell you how you filled my life with love, laughter, joy, and a little heartache. I'd tell you how lucky I was to have "our perfect." I'd tell you how people miss you. Your light. Your laughter. Your grace. I'd tell you about your kids. Each one exhibiting virtues to honor you. And Baby Cruz Greyson. Your namesake. I see you. In him. His eyes. His smile. A light. A joy. A blessing. You must know. For you are his angel.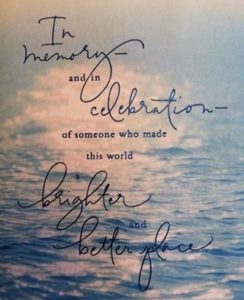 Today we celebrate you. Cheers. To a life well lived. You left a legacy behind. A legacy based on love, integrity, generosity, and kindness. We will carry on. My heart is yours. Forever. Peace and love.
Here we go. Year 5…